Brenda McFarlane, City of Fairbanks Crisis Now Coordinator
Several years ago in our community, if you were trying to help a friend or loved one in the midst of a mental health crisis, your options were limited. You might have tried to transport the person to the Emergency Room department yourself or called 911 or attempted to make an appointment at a community-based mental health provider. The options available may not have been a good fit for the person in need or sometimes not even available.
Now, due to the investment of the Alaska Mental Health Trust Authority in communities across Alaska, a Crisis Now Continuum of Care is being built to create a behavioral health crisis response system that is as straight forward as the model for the physical health system.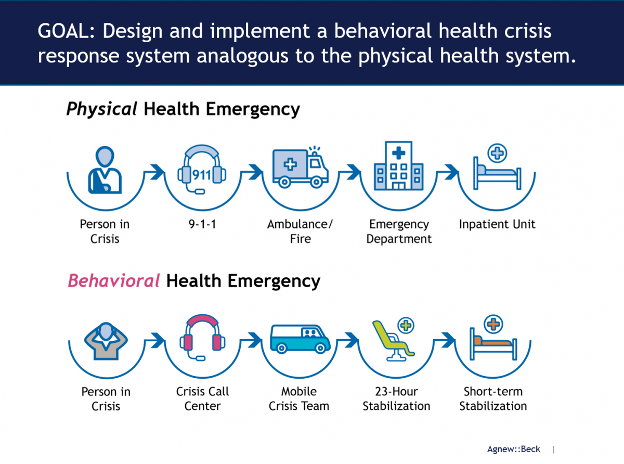 In Fairbanks, since October 2021, a Mobile Crisis Team (MCT) is now on standby and being sent by the Fairbanks Emergency Communication Center in response to behavioral health crisis calls. MCT is available 24/7 and is staffed by a licensed mental health clinician from Alaska Behavioral Health and a certified peer support specialist from The Bridge. The professionals with MCT are able to access the person in crisis, work to resolve the crisis on location, offer a next-day appointment, and continue to follow up to connect the person to resources. Since the start of this program in Fairbanks, over 85% of these responses have been resolved without the further involvement of law enforcement or transport to hospital.
Additionally in February of 2022, Refine Stabilization Center was opened by Restore, Incorporated, to provide a safe and calming environment for anyone in further need of stabilization. This facility is locally operated and provides access to mental health, substance use care, medication, and case management.
The goal of Crisis Now in Fairbanks is to continue to expand and improve on this network to ensure that members of our community do not fall through the cracks, that friends and family members have more resources to offer individuals, and everyone is able to get the care they need within our community.
Ways to connect with these resources:
The Mobile Crisis Team (MCT) is currently deployed through calling 911. You can request the MCT be sent out to anyone in the midst of a mental health crisis.
MCT is staffed by Alaska Behavioral Health and The Bridge. These organizations also make appointments to serve individuals in need of mental health and peer support services.
Refine Stabilization Center is located at 215 S. Cushman and call be reached at 907-328-1566.
Both the MCT and the Refine Stabilization Center are able to work with individuals under 18 as well as adults.
For further information on Crisis Now efforts, you can visit the City of Fairbanks Crisis Now website.